SULLIVAN'S SPECIALIZED SERVICES
---
This 53' drop deck van is carpeted, paneled, has ceiling lights and fans plus a large exhaust fan, on-board grease pencil boards, tables and chairs, a 10,000 watt generator for locations that don't have electricity, a 96% efficient furnace and air conditioner that is a 220 volt household unit.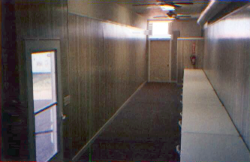 This unit has a walk up ramp for easy access, plus outside lights over the ramp area. It also comes with a lectern PA system. This unit can be plugged into a 110 outlet, or hard-wired for longer rentals to 220 power to provide 110 power plus 220 power to the air conditioning unit.
"If a central location is needed for special functions for sign-up or meetings, this 53' unit is perfect."